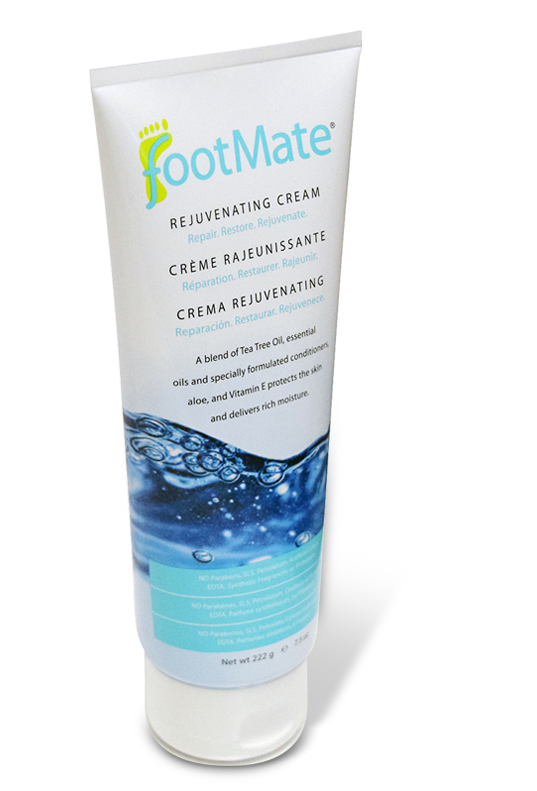 7.5 oz (222 ml) tube

Specially formulated for feet, The FootMate® System's unique Rejuvenating Cream is a natural antiseptic, moisturizer, and conditioner all in one. The Rejuvenating Cream will leave your feet soft and supple.
Your Feet Will Love You!...®
The cream features:
No: Parabens, SLS, Petrolatum, Synthetic Fragrances, EDTA, Artificial Colors or Phthalates
Tea Tree Oil - Tea Tree Oil (Melaleuca alternifoli) is a natural anti-fungal, antiseptic, germicidal and anti-bacterial. It is an ideal ingredient for daily foot care.
Benefits include:
- Decreases occurrences of foot odor
- Helps prevent athlete's foot
- Disinfects minor cuts/abrasions
- Aids in good toenail health
- Soothes, softens, and helps heal dry, cracked, calloused skin
Aloe - The aloe plant aids healing and repair of skin.
Moisturizers / Conditioners - This special blend will leave your feet feeling soft & supple.
Vitamin E - Protects the skin from damaging UV rays, provides effective moisturizing and hydrating treatment that soothes, softens, and helps heal dry, cracked, calloused skin